About Us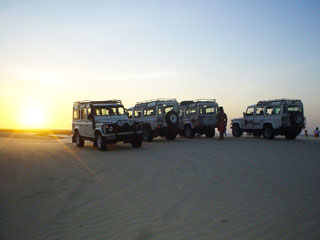 The Extremo Nordeste Xpeditions and Tourism Ltd. was born in the year 2.000, on board of a brave Suzuki Samurai, leading tourists to beaches near Fortaleza, on one day trips.
As tourism was developing and increasing the numbers of visitors, it was necessary to grow.
So I bought my first Land Rover on 2.001...It was like an ambulance and needed to be fully adapted to transport comfortably our passengers, and so it was done... A soft top was installed and passengers had nice benches (army style) and a removable roof for sun bath and watching the beauties of the beaches. With a more reliable and adventurer car, the classical 4x4 built for global expeditions our horizons began to expand.
Now 4 days expeditions to Jericoacoara and Natal could be made still offering comfort and wellness to our clients.
But it was not enough...always looking at our client's feedback, another change had to be done...So I bought another Land Rover, after selling the first one with a broken heart...
It was 2.003 and now I had a Land Rover Defender 110 deluxe, with air conditioning, special and comfortable seats. With this we had an even bigger autonomy to travel even farther...so now the National Park of Lencois Maranhenses and Sao Luis became closer...9 days expeditions were now done and clients were 100% satisfied.
2.005 and professionalism was needed to attend agencies and clients, so another Land Rover arrived. Expeditions, with group companies from incentive tours were easily done by the company. Even other Land Rovers were aggregated to the company.
Now, in 2.006, Rafael Barbosa has joined the team bringing on his back more than 5 years of four-wheel driving on the region and thousands of kilometers leading tourists with professionalism and competence.
Attending Tour Operators from Europe and all Brazil, we can guarantee a good attendance to the customers even in the periods of high season. We can offer quality services in the trips through the most paradisiacal beaches of the Brazilian northeast extremity. Our trips have famous destinations as Canoa Quebrada and Jericoacoara and places still to be discovered as the gorgeous beach of Ponta Grossa.
Our intention is to keep contact with the natives of these places and to practise the Sustainable Tourism. We offer quality in the attendance and we are worried about your vacation, therefore we know how much you worked the entire year to be able to enjoy some days of tranquility and calmness. Therefore, nothing can be wrong. From the choice of the inn until the restaurants and stops during the trip everuthing is chosen with care and attention. Although many times we are at remote places, we search for the maximum quality in all details.

Thanks a lot to the friends and partners who always stimulated us and continue to help us in the discovery of the northeast extremity.


Paulo Martins.